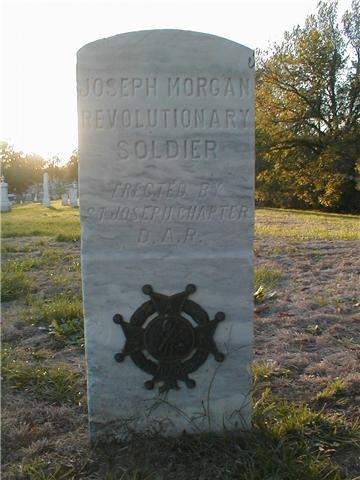 Joseph Morgan Grave Marker
Joseph Morgan assisted in establishing American Independence as a Private in Capt De La Deson's Company, San Tout Regiment, French Army. His U.S. pension application was rejected because his service was in the French Army.
Joseph was born 1738, Rome, Italy and died 22 December 1841, Platte County, Missouri. He is buried at the Platte City Cemetery, Platte County, Missouri. Platte City Cemetery is a public cemetery located at 300-400 North Street, Platte City, Platte County, Missouri. Joseph's grave is in the center section near 4th and Petunia Drive, at coordinates: N39° 22' 31.35" and W94° 46' 47.28". His gravesite has been marked by the DAR St. Joseph Chapter.